Interview with Producer Brian Virtue April 14, 2011
April 17, 2011 by: admin
April 14, 2011
BRIAN VIRTUE (Producer)
Nashville, Tennessee
By: Shauna O'Donnell
HEY BRIAN, THANKS FOR TALKING WITH ME TODAY. LET'S START WITH A BIT OF HISTORY. HOW LONG HAVE YOU BEEN PRODUCING?
I started out in studios about twenty-two years ago. At first I was trying to get into being an engineer and then moved up into producing through time. It was probably the mid 90's when I started getting hired as a producer. It really started taking off in the last ten years.
WERE YOU A MUSICIAN FIRST?
Yes, I used to play music when I was in school and it was definitely what got me into this. Working in studios does not really allow enough time to continue pursuing that, or at least it didn't for me. My playing abilities definitely took a hit.
WHAT INSTRUMENTS DO YOU PLAY?
It was mainly piano. I definitely played a lot of synth in bands back in the 80's. I also used to play a bit of drums.
I HAVE FOUND THAT SOME OF THE REALLY GREAT MUSICIANS OUT THERE STARTED OUT ON PIANO.
Yes, it's a good instrument to learn the basics of music on. I think it makes more sense musically, than guitar, although guitar would be a lot more fun.
WHAT WAS IT ABOUT PRODUCING THAT MADE YOU CHOOSE IT FOR A CAREER?
I just remember being in high school and I really wanted to be in the studio. I really wanted to be on the creative side of making records much more than being a musician itself. I considered going to music school when I was in high school and concentrating more on being a musician, but I knew my heart wasn't in it. I didn't feel that confident about myself as a musician. I was really excited about working in studios. It definitely worked out for me. The more I do it, the more I realize I would never have enjoyed touring and playing every night as much as doing what I do.
NOW YOU HAVE YOUR OWN STUDIO.
Yes, I have a studio on a big property just outside of Nashville, Tennessee. This is where we cut Chevelle's Sci-Fi Crimes. Most of my current projects are done here. I used to live in Los Angeles up until about four years ago when I decided to move out here. L.A. was definitely getting frustrating for me working in music. I had put a console in my house just to do jobs from time to time. As the industry continued to take hits financially, I just found myself working out of the house more and more. It wasn't a professional environment and it wasn't the environment that I trained to work in. It was fine on the odd project here and there to work at home, but the more that it became the norm, the more I was getting very frustrated not to be working in a more professional manner.
DO YOU HAVE YOUR OWN PRODUCTION COMPANY TOO?
We have been doing a few things like that. I haven't really made it a priority at this point. It is definitely something I'm interested in. Luckily, I have had enough work and I have been busy enough with the already established artists.
WHAT GENRE OF MUSIC DO YOU USUALLY PRODUCE FOR?
Harder edge rock is a lot of my work. I've done a lot of work with 30 Seconds to Mars and Chevelle. As an engineer and helping out a lot, I went and did The Sounds record over in Sweden, which is definitely not hard rock. Occasionally I will get the odd request like that, but it is more raw, in your face rock that people know me for.
IS THAT WHAT YOU PREFER TO PRODUCE?
Yeah, but it is always nice to have a change.  As you continue to work on a certain style of music, you always want to be working on something different. Loud guitars can become annoying after a while and you want to work on something that is a little easier on the ears. Then when you are working on stuff like that or something with a lot of electronics, which is fine, you get tired of it after a while and want to get with a really good, loud rock band. The more you can mix it up is probably healthy.
NOT ALL PRODUCERS CONTRIBUTE TO THE SONGWRITING, DO YOU?
I typically don't, but it happens from time to time. If a band doesn't really have their songs together and needs a little bit of help, I will steer them to someone else that I know. I try and find the right writer for them. If I am going to send a band to try and have their songs worked on and ask them to give up a piece of their publishing then I really want them to work with the best writers out there. I am probably better on the producing/mixing side.
WHAT IS YOUR FAVORITE PART OF THE RECORDING PROCESS?
It's not really "parts" to me; you always have a vision of the end result in your head, so you are always working towards that. From the moment I start a record, you are typically starting with the drummer, I always tell my bands that I am trying to get to the point where we can start recording the lead vocals. That is when the song starts to take shape and you realize what you have. It's not a process so much as you always have your eye on the end result. Hopefully, it comes together smoothly. Every album ends up being a different process anyway depending on the style, the strengths and the weaknesses of the project.
WE TOUCHED A LITTLE EARLIER ON THE INSTRUMENTS THAT YOU PLAY. DO YOU FEEL IT IS IMPORTANT FOR A PRODUCER TO BE ABLE TO PLAY A VARIETY OF INSTRUMENTS?
Not necessarily, the role of producer is a pretty nebulous role. I had to describe me one time and I said that the producer is essentially the manager of the album. If he is getting hired by a label, he has to deliver a marketable product on time and on budget. What that requires is different for every artist. Some producers may be musically great, not know much about the technical recording side and they will hire a really good engineer putting all their faith in that engineer. Other guys are much more technical people and they can help guide the artist through the album. I sit somewhere in the middle I guess. You are going to have to know some music, especially dealing with rock music and dealing with bands to help them shape their songs. You have to understand what they are going for and help them reach that point with their songs. There is no right or wrong method of producing. One of the big producers in the 80's was Hugh Padgham, who produced a lot of bands like The Police and Genesis. Those were artists that didn't need any musical help at all. He was typically known as more of an engineer. There are obviously producers that do everything for the artists. Those artists need a lot of musical help and direction. It is all about pairing the right team together.
WHAT ADVICE DO YOU HAVE FOR BANDS THAT WOULD HELP THEM TO PREPARE TO ENTER THE STUDIO?
First and foremost, you need to have the right songs together. Without the right songs, you should really hold off on moving forward. It varies from project to project on how quickly I think we can make adjustments. If the band doesn't quite have their gear sorted out, we may try and work on seeing if they want to purchase more gear for the recording. They need to make sure their gear is ready to record. Things like drum heads and guitar strings we will figure out in pre-production. For the majority of the bands that I do, I like to utilize the band's equipment as much as possible. Hopefully the musicians have their own sound, so I don't try to bring in too much outside equipment. I want to capture the band the way that they have been playing.
DO YOU FIND THAT IT HAPPENS QUITE OFTEN THAT A BAND WILL COME IN TO THE STUDIO AND THEY HAVEN'T FOUND THEIR SOUND YET?
Definitely more and more I think. There have been a lot of good sides to the computer technology aspect and people being able to do a lot of recording at home. The downside is they play less of the band and they don't seem to have quite found themselves in the same way that used to happen. The interaction between musicians in bands seems to have definitely taken a hit over the last ten years. The computer aspect definitely gave a lot more control to the most dominating person in the band.
I SEE WHAT YOU ARE SAYING. I THINK THE ECONOMY HAS MADE IT ROUGH ON BANDS AND PRODUCERS AS WELL. IT SEEMS LIKE SO MANY BANDS ARE STARTING TO PRODUCE THEMSELVES BECAUSE THEY HAVE NO BUDGET.
Yeah, it's hard because back in the 90's I worked on a few records that had small budgets even by today's standards, but we would only spend a few days on them. A lot of the records I grew up on, post-punk 80's records, may have recorded and mixed their album in one day, possibly two days. Nowadays, everyone is trying to compete with the major label albums. They are recording them themselves and they learn some bad techniques that way. Out on the road is where they are going to learn how to become a great band. It is definitely rough on everybody, the bands included.
YOU TOUCHED ON SOME OF THE BANDS YOU HAVE WORKED WITH PRIOR, WHO ARE YOU WORKING ON CURRENTLY?
I am currently wrapping up Maylene and the Sons of Disaster. We've wrapped up all recording; I'm just taking care of the last few issues before I jump into mixing. I have a few other things bouncing around. I just did some mixes for an artist named Joshua Radin who is much more folk, kind of a more alternative folk music. That was fun. I've got a lot of things I'm in discussions for later in the year. There are definitely some good projects coming around. We just got Royal Bliss out there, which was a project I did late last year. We just got the first single out. I'm definitely excited about the Royal Bliss album.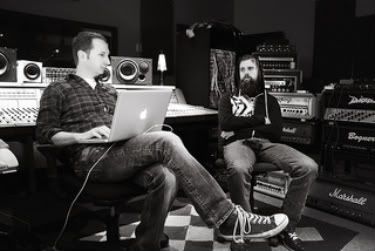 Dallas of Maylene and the Sons of Disaster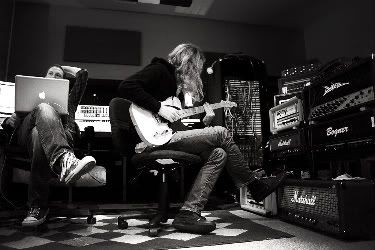 Jake of Maylene and the Sons of Disaster
HAS YOUR WORK BEEN IN TV AND/OR MOVIES?
Yes, there's a Jane's Addiction song off of the album Strays that I did called "Superhero" and it is the opening theme to Entourage. Quite often we will try and get a song in a movie. It's fun to hear your song every time you sit down on a Sunday to watch a show.
WHERE CAN BANDS REACH YOU IF THEY ARE INTERESTED IN RECORDING WITH YOU?
A lot of bands will find me on Facebook. My email address is on there. I generally try to be open about responding to bands. I'm always happy to talk to unsigned bands.
THANK YOU SO MUCH FOR THE INTERVIEW!